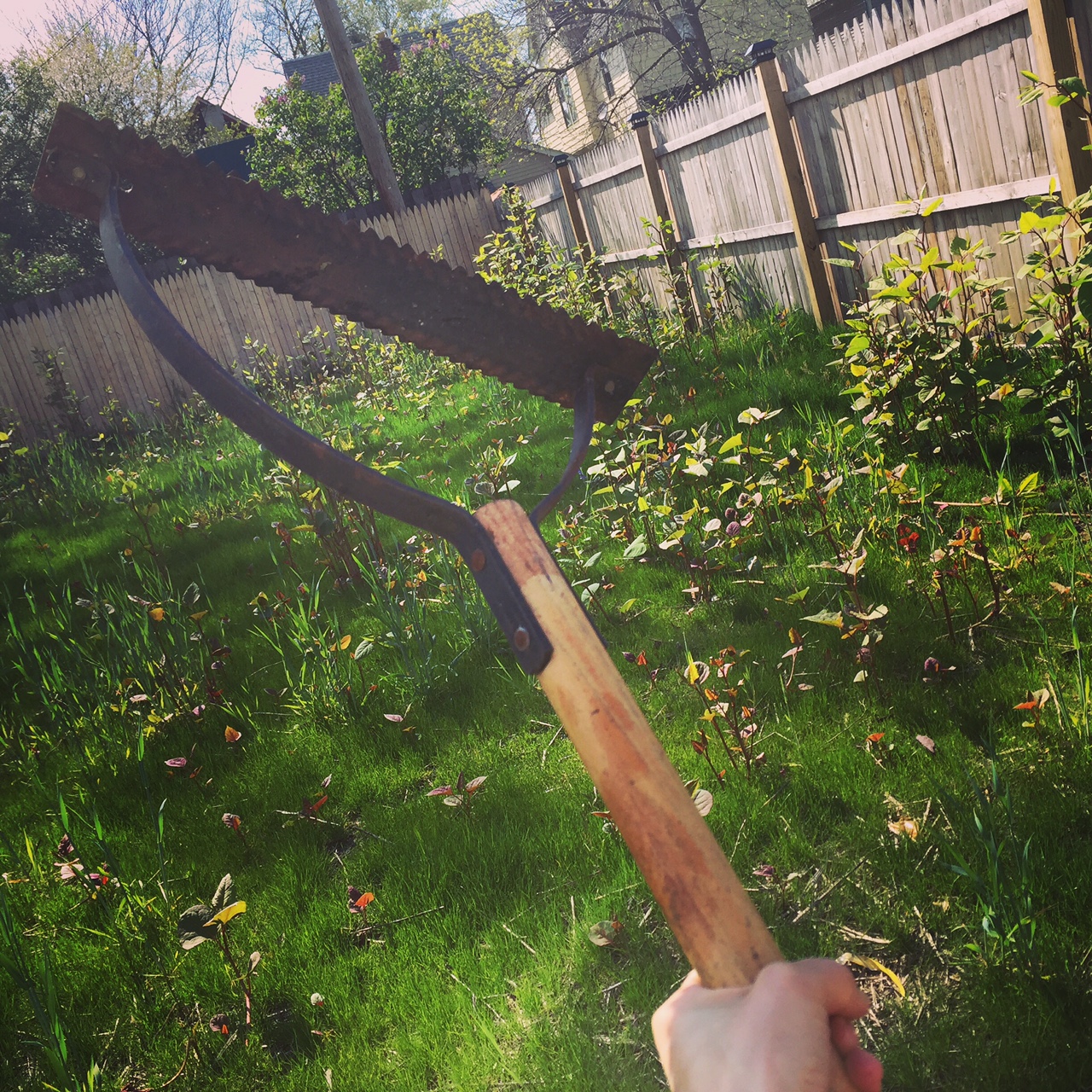 A few weekends ago, I hurt my back, because I was ignoring the little signs and signals my body was presenting me. It was about 5 weeks since I had a massage therapy session and I was pushing myself at work, play and at home to get my new house settled. I had been stressed out about the state of hatred in our country, operating a business and decided a nice run was just the ticket to rinse the mind, empower my body, and release what I cannot control. After a slow 30 minutes, I felt awesome and euphoric, and because I was already sweaty, why not tackle the side lawn? With the battery for my weed whacker MIA, I used my bare hands to pull tall weeds and used grass shears to trim, and then this scythe thing to hack down tall weeds from the root in a golfing type motion back and forth… finally deciding a feverish hacking from the root was better for removal of unwanted growth.
I was pleased when I completed the work, and exhausted. I needed to stretch out my quads, hamstrings, glutes, IT band and adductors from running, not to mention my shoulders, forearms, and hands from work… but fun was going on and I needed to get ready to enjoy a dinner out! That shower felt amazing and I looked great in those high heels…. and then I awoke Sunday with a bit of soreness. Knowing I might have overworked myself. I practiced some yoga on my porch… but too late to prevent the pain that was coming.
Monday I woke up in horrible spasm in my low back and hips. I cancelled my appointments for the day, and got a sub for yoga class (thank you Gary Dacanay). I was mad at myself! Why didn't I stretch?! Why did I forget to schedule massage therapy for weeks?! I cursed myself for my stupidity in doing a task I could have paid someone to do compared to how much I was losing in time and money, and in letting my clients and students down.
Then I iced and meditated. In meditation, I allowed loving kindness to wash over me, and forgive myself for such torturous thoughts. I decided to be grateful for the opportunity to experience first-hand a new pain that many clients that have come to me have experienced. I moved my appointments, and gave myself the opportunity to heal with some amazing practitioners. With bad spasms in my back, Jessica Julien LMT was able to offer CranioSacral Therapy. Her gentle and knowing hands took the extreme edge off and started the facilitation of healing. Next up on day two was Acupuncturist Karen Mastrangelo, who opened up the pathways of healing with lots of needles and some cupping to my low back. Then it was time for a private therapy session with Ava Corsa, with Therapeutic Pilates, who was able to encourage the healthy curvature back to my lumbar and was able to get my hips back into neutral alignment. A few days later at 70% improved, I had 90 minutes with Jennifer Hays, who was able to smooth out and work through all of the secondary and tertiary muscles that were affected with deep tissue massage therapy. Lastly, yesterday I received a Polarity session from Tim Pollack, who brought some energetic balancing to my body.
I am so thankful to know and work with so many talented professionals! I won't think about the wasted time, money and pain I went through in any negative thoughts. I am thankful for the pain experience to remind me of what it feels like when I forget to nurture my body. Prevention in the form of daily yoga, Qigong, and bi-monthly Massage Therapy is what my body needs to sustain wellness and thrive. In summation… listen to your body and give it loving kindness before it forces your attention!