TJ Sandella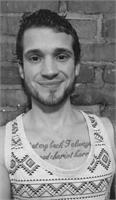 I arrived at the physical practice through the backdoor. A product of post-religious, Rust Belt cynicism, it took moving away from Ohio to confront the many small and extravagant ways that my value system continued to fail me, and, by proxy, the many small and extravagant ways I continued to fail myself and the people around me. So, as I often do when I'm confused about a subject, which is frequently, I read, and eventually found Patanjali, Thích Nhất Hạnh, Ram Dass, Sri Dharma Mittra (my teacher), and a deluge of other writers and figures dedicated to mindfulness and compassion. Their worldview felt (and feels) more useful, more true. I was hooked.
As a lifelong athlete and efficiency nut, pairing meditation with a demanding physical practice was a tidy and logical next step. The alchemy settled in my bones, made sense in all the ways you can't explain without sounding like a goofball, the sentence trailing off into abstractions. But. What I can say clearly and definitively: after years of abusing my body on fields, courts, and courses, and after years of abusing my mind in increasingly creative ways, yoga became the clear path to heal both.
What to expect in TJ's classes: My classes are based in Dharma yoga, the lineage in which I'm trained, which utilizes traditional poses and sequences to form the skeleton of a practice that can be tweaked to be as simple or as challenging as the student needs. Anticipating those needs—finding the right places to push or pull back—is one my favorite parts of teaching. Class ends with savasana, employing aspects of yoga nidra (or guided yogic sleep) to facilitate a mini-meditation.
TJ Sandella instructs the following:
Inspired by Yin Yoga, this class targets the deep muscles and connective tissue of the body using a Yin approach: meditative stillness for a long duration. Deep, conscious breathing and attention to the present moment are encouraged as students hold poses passively for several minutes at a time. Designed to be accessible to all levels of yoga practitioner, poses are generally practiced on the floor and modifications will be offered. Class will finish with restorative, supportive poses preparing the body and mind for final relaxation and meditation.

LOCATION: Vision Underground - 2600 Church Ave., Cleveland. Lower level of St. John's Episcopal Church.