Joe Gauntner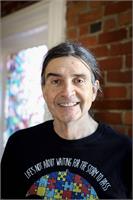 Joe found yoga in the middle ages – his own, not history's—when sidelined with a running injury. "At first, I only saw it an alternative form of exercise. Over time I came to see connections between the body/mind dynamic supported through yoga and my earlier training as a Gestalt therapist and clinical social worker." He received his 200 hour teacher training in a multi-style program at Pink Lotus Yoga. He also has a social work degree and a PhD in adult learning. Currently, he is studying restorative yoga.
"I appreciate the inclusive nature of this idea we call yoga. Its specialness is not in the distinctions we draw from training or philosophy but in its accessibility. The person in the wheelchair can benefit as much as the yogi on the mountaintop. The opportunity to enhance one's flexibility, balance, and strength while being present and in the moment is an incredible gift to oneself; and it is accessible to all of us."
Joe lives in the Ohio City neighborhood where he and his wife raised four kids. They are in the 39th year of a three year home renovation project.
What to expect in Joe's classes:
In class and in life, Joe's intent is to greet fellow travelers with gentleness, respect, and humor. His classes will include an opening period of relaxation and breath work. The structure of the physical practice will vary dependent upon the specific class description but will utilize accessible language and the opportunity to learn irrespective of prior yoga experience. "Some folks are reluctant to try yoga because they think they can't do it or may look funny to others. In my classes, we are all fellow travelers where we can practice safely and try new experiences."
Joe Gauntner instructs the following:
Gentle Restore incorporates both Hatha and Restorative Yoga elements, in this slower paced class. Traditional Hatha postures and anti-arthritic exercises are used to enhance flexibility, balance and strength. Restorative yoga postures are utilized to promote deep relaxation, stimulation of the parasympathetic nervous system, and healing. This class is appropriate for those new to yoga, advanced beginners, and individuals seeking to manage day to day stress.




Inspired by Yin Yoga, this class targets the deep muscles and connective tissue of the body using a Yin approach: meditative stillness for a long duration. Deep, conscious breathing and attention to the present moment are encouraged as students hold poses passively for several minutes at a time. Designed to be accessible to all levels of yoga practitioner, poses are generally practiced on the floor and modifications will be offered. Class will finish with restorative, supportive poses preparing the body and mind for final relaxation and meditation.

LOCATION: Vision Underground - 2600 Church Ave., Cleveland. Lower level of St. John's Episcopal Church.