Becky Verner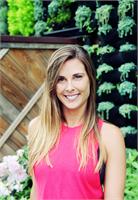 I found yoga in the rolling hills of Athens, while attending Ohio University many years ago. First a retreat from the busy (mostly social) life of a college student, this practice has since brought me strength, acceptance, discipline, many friendships and loving kindness. Yoga helps me like myself a little bit more, and it's helping me find my purpose in the world -- what a blessing! In 2015 I earned my 200-hour certification from Cleveland's Ananda Bhakti Hatha Yoga Teacher Training.
What to expect in Becky's class: As a teacher, I want my students to have fun during my class. I encourage creativity and ownership in the practice of each student. You'll often hear me say that "yoga is a practice with ourselves together." We begin with awareness and appreciation of where we are at the moment -- mentally and physically. Throughout our practice we'll detox our bodies by breathing, twisting and filling the space created with loving kindness and gratitude. I encourage my students to let go of any sense of judgment or competition in order to truly look inward, finding beauty and acceptance in their practice and themselves.
What People Say About Class With Becky:
"Becky led an excellent class! I did poses that I haven't held in a long time, so it was nice to have some fresh changes. I enjoyed the music and she also helped with some assistance that helped me improve my practice. Becky also consistently has fun and inspiring commentary. Would recommend her class to all!"
"Awesome playlist, great practice, and lovely teacher! I really enjoyed how Becky's theme of following your breath led from start to end. It kept me focused & aware. I also love how she motivates me to push my practice where I can! Thanks Becky :)"
"Was grateful for Becky's assists! Helped me stretch deeper. Also her lead in to savasana was soothing!"
Becky Verner instructs the following:
Open Level Flow classes focus on alignment, attention to the breath, and mindfulness, inviting the body to move with increased awareness and ease. Often, we'll hold poses a bit longer and take more time to explain the subtleties of the pose, incorporating plenty of modifications to address physical limitations or to make the poses more challenging. This class will be accessible to any level of practitioner, whether it's your 5th or 500th class.

Please note: Because this type of class caters to all levels of experience, it's likely that one teacher's class may be very different from the next. We recommend trying all of our Open Level teachers to discover the class that is best for you!




Zen Flow, a slow paced class filled with fluid movement, deep stretches, and time for meditation- open to all levels. Come on your lunch break and don't worry about getting sweaty. Perfect for those of us who need a mid-day, stress releasing recharge for body & mind.




Looking to deepen your yoga practice and meet others in our community? Join others who want to do the same! This open-level practice will cater to those who attend, offering modifications and adjustments for those who are beginners and those who are more advanced.

Class is free for Vision Yoga & Wellness monthly members, or just $5 to drop-in. Come check out our studio, meet our staff and join our inclusive community of Visionaries!

Contact

info@visionyoga.net

or call us at 216-348-1111 with any questions! Pre-register if you can, or come 15 minutes early and we'll get you all set for class.




The class starts with a dynamic and invigorating flow that will challenge your body and your mind. The flow of this class is based on principles of vinyasa yoga, in that it offers a vigorous, athletic style of practice that moves quickly from pose to pose to build flexibility, but does not have set sequence of movement. Wind down with some slower twists and longer-held stretches, closing with Savasana.




This class combines a traditional Vinyasa flow with exercises designed to deepen your core strength. Move from asana to more traditional style abdominal floor exercises and end with a sweet Savasana.


LOCATION: Vision Underground - 2600 Church Ave., Cleveland. Lower level of St. John's Episcopal Church.