Gary Dacanay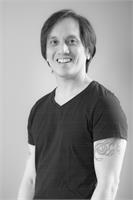 I am a Certified Baptiste Yoga Instructor. I completed my teacher training with the Baptiste Power Yoga Institute finishing Levels 1, 2, and 3, as well as Art of Assisting and Advanced Art of Assisting. Additionally, I've been a professional musician and music teacher for over 20 years, I practiced Tai Chi for 15 years, and I'm a Reiki Level 2 practitioner.
What to Expect in Gary's Classes: Powerful, passionate, and inspiring, with unexpected shots of humor. In various classes, I often use live music to accompany guided meditations and highlight the flow of classes to inspire students.
Gary is also a certified Reiki practitioner. "Reiki" is is a Japanese term comprised of two symbols, "Rei" meaning universal life , and "ki" meaning energy. Reiki is a technique for stress reduction and relaxation which also facilitates healing on all levels – physical, mental, and emotional. It is administered by "laying on hands" and is based on the idea that an unseen "life force energy" flows through us and is what causes us to be alive. If one's "life force energy" is low, then we are more likely to get sick or feel stress, and if it is high, we are more capable of being happy and healthy.
Gary Dacanay has been a Level 2 Reiki practitioner for over 20 years. He administers Reiki when assisting students in his yoga classes and also gives full treatments by appointment.
Gary Dacanay instructs the following:
Open Level Flow classes focus on alignment, attention to the breath, and mindfulness, inviting the body to move with increased awareness and ease. Often, we'll hold poses a bit longer and take more time to explain the subtleties of the pose, incorporating plenty of modifications to address physical limitations or to make the poses more challenging. This class will be accessible to any level of practitioner, whether it's your 5th class or your 500th class.

Please note: Because this type of class caters to all levels of experience, it's likely that one teacher's class may be very different from the next. We recommend trying all of our Open Level teachers to discover the class that is best for you!




A dynamic and invigorating flow that will challenge your body and your mind. The flow of this class is based on principles of vinyasa yoga, in that it offers a vigorous, athletic style of practice that moves quickly from pose to pose to build flexibility, but does not have set sequence of movement. These classes are for intermediate to experienced students and may include more challenging poses such as inversions, backbends, and arm balances.