Dana Perry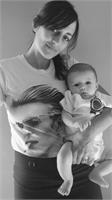 In 2006 Dana received her Yoga Certification from Nosara Yoga Institute in Costa Rica. She has completed levels I and II of her Reiki training with Lisa Levine and is currently studying the healing practices of Ayurveda with Maya Tiwari at the Wise Earth School.
Through her knowledge and experience with many paths to healing, Dana can provide each student with exactly the practice that will serve them best.
"I have been teaching and studying the Art of Yoga for over 10 years in NYC. The intention behind my work is to inspire my students towards a greater sense of harmony and balance. Through the beauty of Asana, Pranayama, Mantra and Meditation, my students experience a class that leaves them feeling rejuvenated and connected to a greater sense of self. I hope to continue sharing these teachings as a messenger of love, light and compassion."
What to expect in Dana's classes: We will gently flow for the first part of class, warming up our bodies and releasing our mental stress. Then we will luxuriate and relax in 30 minutes of deep restorative poses.
Restorative yoga is a practice of receptive surrender. With the support of props we can truly release all muscular effort and habitual holding of body and mind. This in turn balances the nervous system and brings more prana/energy flow to the organs, leaving us feeling happier and healthier.
What People Say About Class with Dana:
"Amazing class! Perfect playlist, great poses that I enjoyed and hadn't done before, and an overall refreshing & energizing yet calming practice led by Dana! Thank you."
"Dana is AMAZING. I love the style of her class and feel she really pays attention to your movement and helps if needed :)"
"I love Dana's insight and guidance! She led a very calm yet strong practice tonight. Great time!"
Dana Perry is currently not instructing any classes.