Geoff Knox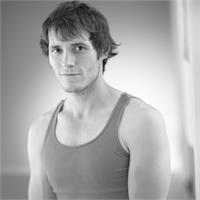 Geoff Knox grew up learning the practices of meditation combined with bodily movement through martial arts. After taking classes in Tang Soo Do and achieving his black belt in Tae Kwon Do, he began to see the power of these ancient practices go much deeper than mere physical fitness. Studying for his BFA in Acting at Kent State University, he found yoga in a movement class and became instantly fascinated with that ancient practice as well. In 2008 he attained his first certification from Cameron Shayne, whose Budokon system combines elements of martial arts and yoga. Geoff quickly found himself hungry for more in depth study and devoted himself to reading and practicing different styles of yoga such as Iyengar and Ashtanga while working towards his MFA in acting at the Asolo Conservatory in Florida. He finally came across a Dharma Yoga class while studying abroad in London, and upon learning Geoff was from the states, the teacher said he simply must find Dharma Mittra. Heeding this advice, Geoff found Dharma in New York City and knew he'd found the teacher he'd always looked for, one whose profound spiritual life and philosophical insight matches his inspiring physical practice. Geoff became certified in 2012, right before his move to the windy city. A dedicated practitioner himself, Geoff believes in guiding his students towards their own personal practice. Whether performed in a class with a dozen people, or alone in one's home, yoga is a personal journey. In the words of Dharma Mittra, "the best guru lies within yourself."
What to expect in Geoff's classes: My classes are Dharma yoga based, but I draw upon every bit of learning I have received from my many teachers. They're simple yet challenging. I stick to the classical postures so that beginners are welcome, but I always introduce the advanced students to more difficult versions of those postures. I weave in certain meditation and pranayama techniques into the practice. My shavasanas are guided, which will take you to a much deeper level of relaxation.
What to Expect in Geoff's Classes:
"Awesome challenging class this morning. Great way to start the day. Thanks Geoff!"

"Great class with mind body awareness. Improved my flexibility and strength in awareness of my true self. Thank you! Namaste"
Geoff Knox instructs the following:
Open Level Flow classes focus on alignment, attention to the breath, and mindfulness, inviting the body to move with increased awareness and ease. Often, we'll hold poses a bit longer and take more time to explain the subtleties of the pose, incorporating plenty of modifications to address physical limitations or to make the poses more challenging. This class will be accessible to any level of practitioner, whether it's your 5th or 500th class.

Please note: Because this type of class caters to all levels of experience, it's likely that one teacher's class may be very different from the next. We recommend trying all of our Open Level teachers to discover the class that is best for you!




A dynamic and invigorating flow that will challenge your body and your mind. The flow of this class is based on principles of vinyasa yoga, in that it offers a vigorous, athletic style of practice that moves quickly from pose to pose to build flexibility, but does not have set sequence of movement. These classes are for intermediate to experienced students and may include more challenging poses such as inversions, backbends, and arm balances.




Open Level Flow classes focus on alignment, attention to the breath, and mindfulness, inviting the body to move with increased awareness and ease. Often, we'll hold poses a bit longer and take more time to explain the subtleties of the pose, incorporating plenty of modifications to address physical limitations or to make the poses more challenging. This class will be accessible to any level of practitioner, whether it's your 5th class or your 500th class.

Please note: Because this type of class caters to all levels of experience, it's likely that one teacher's class may be very different from the next. We recommend trying all of our Open Level teachers to discover the class that is best for you!




This Inversions workshop builds on a base of previous yoga experience. Floating is a wonderful combination of upper body and core strength that deepens your body awareness and mobility. This workshop is a lively, fun exploration that builds the confidence and concentration necessary in the practice of balancing the body and taking it upside down.

Inversions positively influence the cardiovascular, lymphatic, nervous, and endocrine systems by infusing them with fresh energy and allowing the tissues in the lower extremities to drain. Benefiting the whole mind/body/spirit by cultivating intention and focus, we will practice with wisdom and compassion, remembering that these movements develop gradually, and that we gain more with patience than by pushing.

Investment: $35 until Oct 20, then $40




Join Geoff Knox for a 60-minute master class featuring yoga nidra, a practice commonly referred to as yogic sleep.

More about yoga nidra:

Physical Position: Yoga nidra is generally practiced lying down so you can let go completely. Props, pillows and blankets are commonly used, as well as anything that will help you get into a totally comfortable, restful position.
Attention: A typical yoga nidra practice is highly guided, and takes your attention to specific places through a series of steps (mentioned below). In many ways, the specific instructions make it easier to relax than in meditation.
State of Consciousness: During yoga nidra, you move into the state of conscious deep sleep. You are no longer in the waking state of consciousness, but you also move past the dreaming state of consciousness and into the deep sleep state. However, your mind is actually awake, so it's often discussed as the state between being asleep and awake. This is why it is said that yoga nidra is so restorative for the body. In both practices, the mind is conscious; in yoga nidra, the body is in a more restful state.

Benefits of yoga nidra:

Ease insomnia
Decrease anxiety
Alleviate stress
Reduce PTSD, chronic pain and chemical dependency
Heighten awareness and focus
Transform negative habits, behaviors and ways of thinking
Foster feelings of peace, calm, and clarity

Investment: Free to Vision Yoga & Wellness monthly members, or $18 drop-in